Participation of the delegation of Ternopil region in the European Week of Innovations. November 7, Lublin



On the initiative of the chairman of the Ternopil Regional Council V. V. Ovcharuk, of November 7, an agreement was signed on the cooperation between the Lublin Museum in Lublin and the museums of the Ternopil region: the Ternopil regional museum of local lore, the regional art museum, the regional literary-memorial museum of Yuliush Slovacki in Kremenets.
---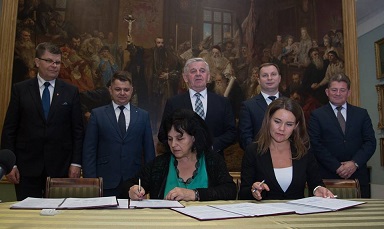 The Polish side during the signing of the agreement was represented by the director of the Lublin Museum, Katarzyna Meсhkovska, and the Ukrainian - the director of the regional museum of Yuliush Slowacki in Kremenets - Tamara Senina. They agreed on a program of cooperation for 2017-2020 in terms of implementation of future joint business projects.
In the photo: The head of the regional council Victor Ovcharuk and the head of the regional state administration Stepan Barna during the signing of the protocol of intentions between the Ternopil regional council, Ternopil oblast and Lublin regional. November 7, 2017, Lublin City. Photo by Ivan Didych
In the photo: Tamara Senina (Director of the Museum of Juliusz Slowacki) and Katarzyna Mieczkowska (Director of the Lublin Museum), when signing the Agreement. November 7, 2017, Lublin City. Photo by Ivan Didych